Ten years ago, Casper Ruud participated in Kungens Kanna. Now, having reached the final of the Miami Open, the Norwegian tells the magazine ITF World that the time has come for him to take the next step on the Grand Slam stage.
Ruud also talks about the principles and values which sustained and characterized those early tennis steps.
"It sounds very basic but the main ingredient for success is hard work. Of course it is not enough with only hard work, but that is the main base.

After that, you have to develop your mindset, especially on the court, and have a good overview of what you need to do on the court, which comes with playing matches. You have to win many matches and play well on the important points. Hard work is something that will take you far. Between 13 and 18 years old was the year when I built up my playing style, my character and my body physically. You develop and develop a lot during those years.

Hard work may sound like a simple answer, but at the end of the day we have heard many times from the legends in the sport like Roger Federer, Rafael Nadal and Novak Djokovic, that hard work takes you far."
We are looking forward to seeing which players follow Ruud's advice and make that extra hard effort leading up to, during and after playing Kungens Kanna & Drottningens Pris this autumn!
Head to itftennis.com to read the whole interview.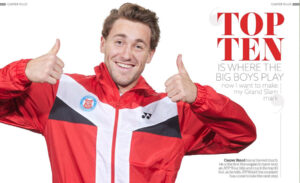 The cover image for the Ruud reportage in ITF Magazine no. 77 .